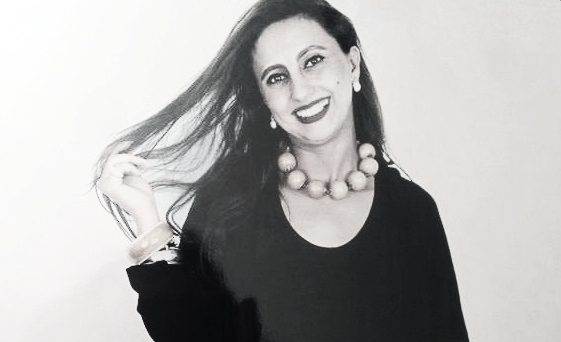 Moroccan Birds was originally created because of our unconditional love for our country, Morocco. Amazed by the beauty of our culture, we knew we had to share it with the rest of the world. We are two sisters who also felt a specific attachment to jewelry since we inherited this passion from our mother. Indeed, from a very young age, our best memories were playing dress-up with our mother's variety of bracelets and necklaces. She had a lot of jewelry pieces and a real passion for bold jewelry. For our mother, wearing jewelry is a way of expressing her personality and is definitely a part of her identity.
Today, Moroccan Birds wants to value the uniqueness of all women and offer a line of jewelry that empowers them and makes them feel special at all time.
In this photo: Our mother wearing Berber jewelry in 1995
We are two founders and sisters with very different strengths. However, we complete each other perfectly.
Based in New York, Zineb is the designer and co-founder of the brand. She is constantly looking for new ways to combine tradition and trend through her jewelry designs. She gets greatly inspired by the traditional tribal signs of Morocco which enable her to create collections with strong aesthetic that hint the brand origin. Also, Zineb's previous studies at Studio Jewelers in New York helped her improve her expertise and stay in touch with the latest design trends.
Based in Casablanca, Rim is the CEO and co-founder of the brand. In Morocco, she works in close collaboration with Moroccan artisans. She assures the quality of the pieces to offer jewelry that has a long-lasting value (as promised in the brand's mission!). Also, Rim has a masters degree in e-commerce at the renowned school of business, HEC Montréal. She uses her knowledge and skills to create a unique online shopping experience through a user-friendly website, strong social media presence and frequent content creation (blog articles).
In this photo, from left to right: Zineb & Rim
All our pieces are ethically handmade by truly passionate Moroccan artisans located in Tiznit (south of Morocco), which is the heart of the Moroccan silver craftsmanship. Unfortunately, even in this region, it is becoming quite difficult to find artisans that use ancestral Berber jewelry-making techniques. At Moroccan Birds, we aim to preserve this traditional craftsmanship by sharing a piece of our legacy.
We have been lucky enough to find talented Moroccan artisans who have been crafting for more than 25 years and using these traditional jewelry-making techniques. These artisans are completely dedicated to what they are producing, and the attention to detail they put into each creation makes it unique. They strive to produce top quality pieces by using pure silver only.
In this photo: Moroccan Birds craftsman Hassan in Tiznit, Morocco